In today's fast-paced Internet era, computers and mobile phones occupy most of our lives. Especially for us social animals, we face the computer at work every day, and after getting off work we tend to stare at our mobile phones to surf social media and watch Tiktok videos. The result of such excessive use of our eyes is: dry eyes, fatigue, red blood streaks, and poor eyesight... Even the photoshopping apps have their limits to covering dark circles and sagging eye bags.

So, for urbanites with a quick pace of life, what are the healthy, easy DIY and delicious methods to protect our eyes?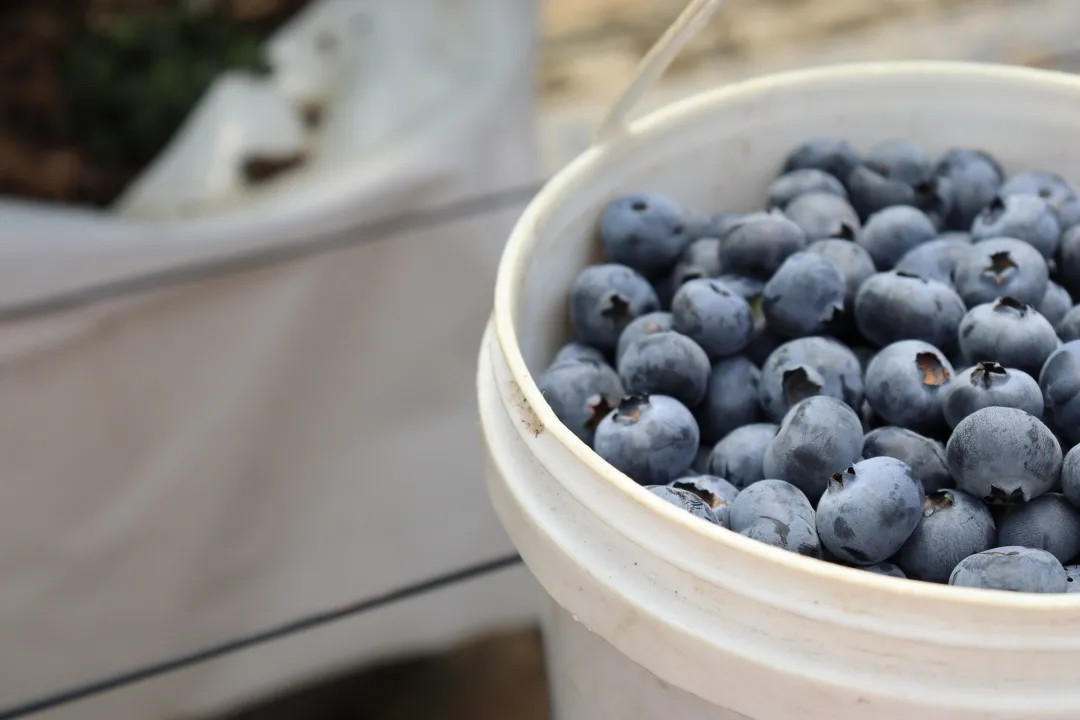 Blueberries are rich in nutrients; it is not only good in terms of nutrition and health care effects, but it also has the functions of preventing cranial nerve aging, strengthening the heart, anti-cancer properties, softening blood vessels, and boosting immunity. Blueberries are popular all over the world because of its high nutritional value - it is one of the five healthy fruits recommended by the World Food and Agriculture Organization.

Blueberries are also rich in anthocyanins, which can promote the regeneration of rhodopsin in retinal cells, prevent severe myopia and retinal detachment, and improve vision. Nutritionists also pointed out that regular consumption of blueberries can significantly enhance eyesight and eliminate eye fatigue.
At the same time, blueberries also have anti-oxidant and anti-aging effects. USDA research shows that among more than 40 kinds of fruits and vegetables that people often eat, blueberries have the strongest antioxidant capacity. This means that the consumption of blueberries can be highly antioxidant, thereby delaying human aging.

Compared with other fruits, the content of protein, dietary fiber, vitamins, and minerals in blueberries are considerably higher than that of ordinary fruits. In this way, the blueberry fruit, with its appearance and nutritional value, is unstoppable. It is delicate and smooth, with rich juice and moderate sweetness and sourness. Matching it with other ingredients is not only nutritious, but also a winner in taste and appearance.
Next, let us introduce two very easy-to-do blueberry delicacies.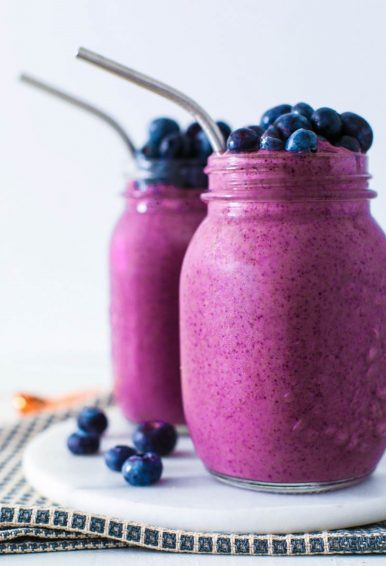 Ingredients

1/2 cup frozen blueberries

1/2 medium banana, cut into slices and frozen (about 1/3 cup sliced or 50 g)

1/4 cup plain nonfat Greek yogurt

2 tablespoons old fashioned rolled oats

1/2 tablespoon almond butter

1 teaspoon vanilla extract

1/2 teaspoon ground cinnamon

1/4 cup unsweetened vanilla almond milk

Optional: 1/2 scoop unflavored or vanilla protein powder if using vanilla, reduce amount of vanilla extract to 1/4 teaspoon

Optional: 1-2 teaspoons pure maple syrup
Steps
Place the blueberries, bananas, Greek yogurt, oats, almond butter, vanilla, cinnamon, almond milk, and protein powder (if using) in your blender and puree until smooth.

If the smoothie seems too thick, add more almond milk 1 tablespoon at a time, until you reach your desired consistency. Taste and add maple syrup for sweetness as desired. Enjoy immediately.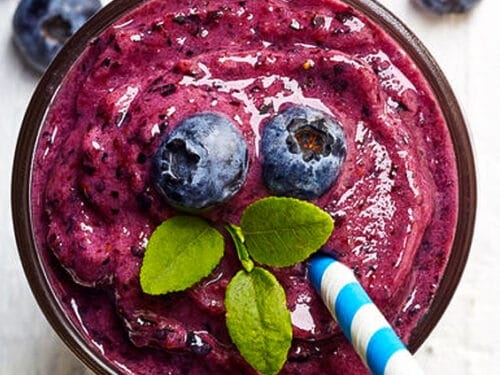 Tips

Bananas are easy to oxidize and change color, remember to make them and eat them now~


Just use bananas with medium ripeness and softness, otherwise it will affect the taste!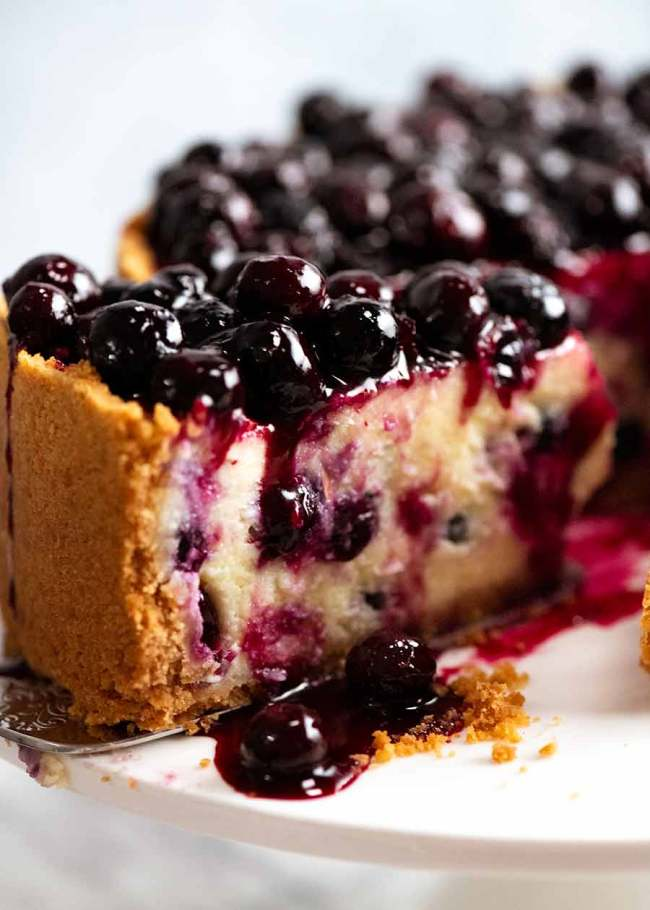 Ingredients

Steps

Crush graham crackers in a food processor or blender until you have a fine crumb.

Pour melted butter into processor and pulse until incorporated with graham cracker crumbs.

Press crumb mixture into the bottom and up the sides of a springform pan, making sure it's firmly packed.

Refrigerate crust while you prepare the rest of the cheesecake. This will chill the butter and help firm up the crust.

Combine cream cheese, cream, powdered sugar and vanilla in a bowl.

Beat with a mixer until completely creamy and mixture is stiff.

Pour cream cheese mixture into crust and spread until even.

Refrigerate at least two hours.

Top with blueberry pie filling.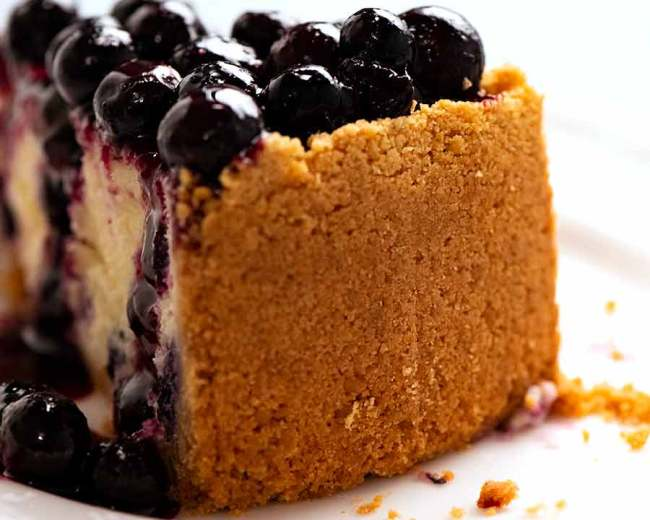 Tips
Make mini cheesecakes: Halve the recipe, and use a mini cheesecake pan. SO FUN AND CUTE!!

You could use any kind of cookie for a crust - vanilla wafer cookies work really well as a base too!

Use cherry pie filling or apple - if using apple - add a little cinnamon to the cheesecake batter.